You know what sounds great right now? Being stuck at a 5-star resort in paradise. And for one South African couple, that recently became a reality. It was amazing for a while, but now they can't wait to get home…
The newlyweds, Olivia and Raul De Freitas arrived from South Africa to the Maldives on March 22nd. They were planning on a 6- day stay, but by Wednesday the 25th, they received notice that their country's airports would all be closed by midnight Thursday. Flights back to South Africa are five hours to Doha, Qatar, followed by a three-hour layover, and then nine hours to Johannesburg — so even if they scrambled and convinced the manager (just like Karen) to get on a flight, the complexities of leaving the remote island ensured they'd never make it home in time.
So, they decided to take a gamble and wait in the Maldives for things to get better. But they didn't. The few other guests still at the resort last week escaped to their respective countries. The last of them to leave (Americans) had to maneuver their way onto a flight bound for Russia before returning to the USA.
By the following Sunday, they were the only guests at their resort, the Cinnamon Velifushi Maldives, which normally is at capacity this time of year, catering to some 180 guests. Room rates start at $750 a night – and there is nowhere else to go. The couple reigned like captive sovereigns over their little island. The days are long and lazy. They sleep in, snorkel, lounge by the pool, eat, drink, and repeat. And it is the first time the lovebirds had spent this much time together since well before they were married.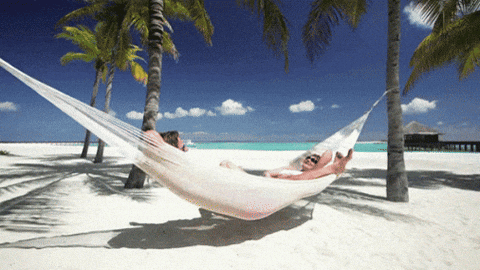 They reached out to the South African Consulate in the Maldives, and the closest South African Embassy, in Sri Lanka, for help. A representative told them via WhatsApp that there were around 40 other South Africans spread among the Maldives, and that their option home would be to hire a chartered jet, at their own expense, for $104,000 (hmm, no thank you). So they stayed.
The resort's full staff was there because of the two guests. Government regulations won't allow any Maldivians to leave resorts until after they undergo a quarantine that follows their last guests' departure. So the couple is receiving treatment fit for a king and queen.
But, not everything that shines is gold…the couple still has to pay. Despite a discounted rate, the financial toll has begun to weigh on them – heavily. Each day that ticks by is a chip taken out of their savings that had been set aside for the down payment of a future home. On Sunday, April 5, they were taken by speedboat to another five-star resort, where South Africans in the Maldives (about two dozen in all) are being consolidated. Thankfully, the local government told them it would subsidize a large portion of the cost for their stay.
I think Netflix should take advantage of this and do a reality show. Instead of Love is Blind, it could be called "Trapped on the Maldives." I think it would be a hit…
"Everyone says they want to be stuck on a tropical island until you're actually stuck," Olivia De Freitas said. "It only sounds good because you know you can leave."
Do you agree? Would you trade places with this couple? Let us know in the comments below!
Check out The Hub for local tips as well.