Mi gente – it's Earth Week!
The week covers the 50th celebration of Earth Day on April 22nd, and Arbor Day on the 24th. Many have called for these events to be stretched out in order to bring awareness to the importance of environmental conservation. Because there are so many stories on how humanity harms nature, we wanted to highlight some positive stories happening right now in the great outdoors.
From the Persian Gulf to Balboa Island near Newport Beach, CA, photographers were able to capture bioluminescence emitted from plankton.
With everyone staying inside, a pride of Lions decided to take a nap in the middle of the road.
Kruger visitors that tourists do not normally see. #SALockdown This lion pride are usually resident on Kempiana Contractual Park, an area Kruger tourists do not see. This afternoon they were lying on the tar road just outside of Orpen Rest Camp.
📸Section Ranger Richard Sowry pic.twitter.com/jFUBAWvmsA

— Kruger National Park (@SANParksKNP) April 15, 2020
Air pollution has significantly dropped since the beginning of the year as people went into quarantine. Large cities are seeing a short, but welcome return to clear skies.
India's virus lockdown gives world's most polluted capital clear skies, clean air https://t.co/TNo6bkHK0k pic.twitter.com/4c5Ebvy3LB

— Reuters (@Reuters) April 21, 2020
A court ruling banned imports on seafood captured by nets that nearly made the Vaquita dolphin extinct.
Good news: The roughly 10 remaining vaquita left in the wild just got an important victory in federal court on #EarthDay. "The vaquita is teetering on the verge of extinction, but the result of this lawsuit gives me hope." – The Center's Sarah Uhlemann https://t.co/xnFmOADTv4

— Center for Bio Div (@CenterForBioDiv) April 22, 2020
These goats in Llandudno, UK claimed their turf and ravaged the town.
This shows what it's all about. They're scared of me (a human) in this. They don't like people. They usually only come down from the Great Orme when it's windy, and only the back streets at the top of Mostyn Street. Now lockdown means it's empty, they're going further than ever. pic.twitter.com/roZpNm61Qh

— Andrew Stuart (@AndrewStuart) March 30, 2020
In the quest to save the planet's coral reefs, scientists were successfully able to reproduce a ridged coral species in a lab!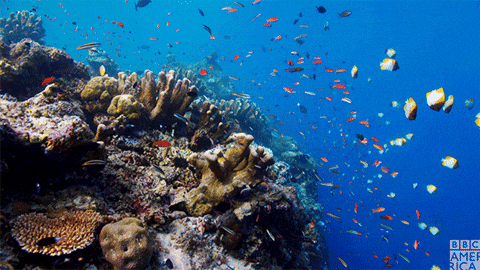 Photographer Kim Wolhuter is isolating with his family on a wildlife reserve in Zimbabwe. He often captures incredible footage of him interacting with the wildlife.
We hope you have a great Earth Week! Let us know how you are doing your part to help the planet in the comments below…