$503 million goes a long way.
Dinero, dead presidents, hustle bones, fat stacks…Patrick Mahomes has a lot of it.
Fresh off his first super bowl win, the quarterback of the Kansas City Chiefs just signed the largest contract in the history of sports. Forget Floyd Mayweather, forget Jordan's sneaker empire, and don't even bother going to see Space Jam 2. Patrick "Showtime" "Moneybags" Mahomes is the new king of magnate athletes and he didn't even need to skirt taxes through hair transplant facilities.
What the hell does someone do with half a billion dollars in Kansas City? Here's the most comprehensive shopping guide for the one-percent of one-percenter athletes.
Buy some famous hair at Leila's Hair Museum
Celebrity hair that you can find at Leila's Hair Museum in Missouri http://t.co/9usRdE8aQY pic.twitter.com/ywQsmeyTSX

— Atlas Obscura (@atlasobscura) November 28, 2013
An essential spot for the curiously cultured champion's itinerary. Leila's Hair Museum is a landmark of midwest oddities and the closest thing the city has to a hall of fame. Featuring famous locks from celebrities like Marilyn Monroe, perhaps Mahomes could be inducted with a couple more rings.
Order Argentinian Steak from Piropos
The MVP may like his steak well done with a side of ketchup (maybe it's his secret to success), but if his taste buds decide to work, he should head on down to Piropos for an authentic Argentinian dining experience. For a city mainly known for BBQ, this joint elevates Latin food's presence in the midwest.
Buy Sporting Kansas City
In 2019, Kansas City's MLS team was valued at $325 million. Not only could Mahomes purchase the team with his contract, but he'd have a significant chunk of change to spare. Why play FIFA's Career Mode when you can do it for real?
QB1 believes.

👊 @PatrickMahomes5#ClaimTheCup #ForGloryForCity pic.twitter.com/ruyKNN6oxH

— Sporting KC (@SportingKC) November 30, 2018
Buy a Giant Book
Just look at these things! Sharpen your mind and body with every turn of the page.
Own KC Fashion Week
Kansas City used to be one of the largest clothing manufacturers in the country before outsourcing and boutique chains took over. Fashion culture still runs strong in the city, and Mahomes could single-handedly bring KC back to compete with stylish hubs like Paris or Milan.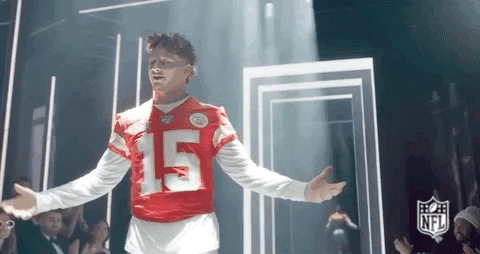 Literally move Kansas City to Kansas
Undoubtedly the most urgent cause affecting KC. Indeed, Arrrowhead Stadium and the rest of the city is actually located in Missouri. With his big paycheck, Mahomes can put a stop to the confusion, and give 6th-grade Geography students some peace of mind on their next pop quiz.  You can't really put a price on that…