Do you want to do something meaningful without leaving your comfy couch? Well, it has never been easier – now you can stay at home while making an impact by adopting an elderly person. I know when you hear the word "adopt" you tend to think of a child, a pet, or even a highway! But don't forget that with the current pandemic, the most affected and vulnerable people are the elderly.
Because they are highly susceptible to COVID-19, senior citizens have had to stay very isolated, especially if they live in nursing homes or group homes. Coronavirus has swept through nursing homes like the plague, so there are no visitors allowed anymore and some don't even allow residents to meet up with each other! This means that the folks living at the homes can get very lonely…fortunately, one nursing home has found a way to combat it – they've started an "Adopt A Grandparent" program.
CHD Living is inviting English-speaking people from around the world to apply online and become a virtual volunteer to engage with assigned "grandparents" through video calls. During that time, you will get to bond with your grandparent the way you both choose. Maybe you play chess, an instrument, or just get some good advice. This initiative goes both ways; it doesn't only benefit the grandparents, it benefits the younger generation too. These "grandmas and grandpas" have survived things way worse than COVID-19. They have lived through multiple wars and post-wars, the Spanish flu, or the Holocaust – so we can get a lot of wisdom and encouragement from them in this tough time.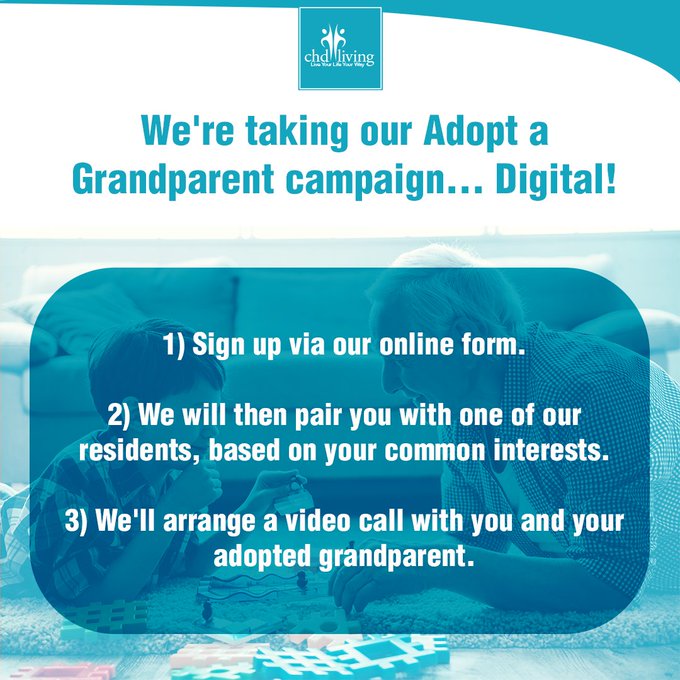 The home asks applicants how they like to spend their time, and pairs them with residents who share those interests. Each home will get a free Facebook Portal TV for the virtual hangouts, and the employees will be trained on how to help residents with the technology. So what are you waiting for? Sign up today!